You should follow several legal requirements when running a small online business, including registering your business, complying with tax obligations, and researching state and federal laws. Your website is the hub of your online business and should be designed to look professional and user-friendly. A social media profile is also essential to establish your authority.

Marketing For Small Online Business:
An essential component of a small internet company's marketing strategy is digital marketing. This strategy aims to increase brand awareness and attract new customers. It is based on the idea that modern users increasingly rely on electronic devices. This means that digital channels must be used in your marketing strategy, whether online or offline. Considerable consideration should be given to various digital marketing platforms, such as digital display, email marketing, and social media marketing.
Online events are another effective marketing technique for small businesses. Small firms can organize webinars, online meetings, and podcasts to interact with their audience. These events can also provide the opportunity to collect audience data and market directly to them. Utilizing these occasions will help you expand your clientele and advance your organization.
Reaching and keeping customers can be accomplished through email marketing. Personalized emails can help build a personal connection with your customers. You can create a drip email campaign that nurtures leads and makes their purchase journey positive. The use of personalized emails also makes your brand feel more authentic. Personalized emails can include personalized coupons or deals based on the customer's preferences.

Small Online Business Ideas:
Small online business ideas are a great way to make money without spending much money or time running a physical business. You can work from anywhere at your speed with them. Because the internet is available worldwide, you can easily reach customers in any country. Several small online business ideas are scalable and profitable.
Selling things online is one of the most well-liked small online business concepts. You can use eCommerce services like Shopify or Oberlo to sell your products online. If you love designing and tinkering with websites, you can even build websites for others and sell them. You can choose the type of business that suits your personality and interests.
Some small business ideas include landscaping and home repairs. You can also specialize in specific fields such as a wedding or business photography. Creating a website will allow you to sell stock photos online. Shutterstock is a great place to sell stock photos. Another business idea is real estate. A business with a website can offer property management services to people who own rental properties.

Small Business Online Banking of America:
Bank of America offers a variety of small business online banking options. Many of these options are free and do not require a minimum balance to open an account. Other features include no monthly service or maintenance fees. Some options even offer interest-bearing business credit accounts and free invoicing. Virtual business debit cards are also available.
Bank of America offers a variety of business checking accounts. Some accounts can be opened with a low balance requirement, while others may require a higher minimum balance. In addition to offering a wide range of online banking options, Bank of America also provides a variety of small business loans. Compared to other banks, Bank of America's lending rates are competitive and are better than most alternative lenders.
While small businesses may have different needs and requirements, most banks offer various services. These services may include payroll, treasury, and even loans. Many small business online banking options are FDIC insured, so you're not exposed to any unnecessary risk.
Home Based Business Ideas For Women

Clothes Small Business:
Regardless of what kind of business you're starting, you must have a website that can accommodate your target audience. Using an eCommerce platform like Shopify is an easy way to get started. The platform provides a variety of plans for various business models. If you want to sell clothes online, Shopify offers an app that can help you. Some apps allow you to sell new and used clothing, marketplace and social media items, and niche-specific apps.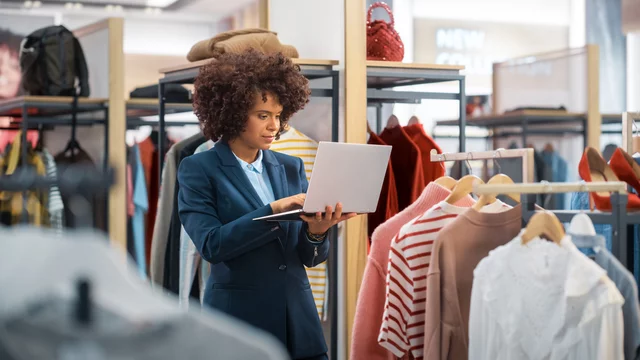 Setting up an account for your business is the first step in launching an online clothes business. This will allow you to keep your business income and expenses separate. Typically, sole proprietorships use a personal social security number, but an LLC will need an EIN from the IRS. A particular business can be identified by its EIN, a unique identifying number. You'll need to invest in some equipment to make your apparel. You can outsource the production of your clothes, or you can set up your factory.
You must optimize your website for search engines if you want to be successful at selling garments online. Using the correct keywords in your page titles and meta descriptions can help your site rank well in search results. A page title is a blue link that appears in the search results, and meta descriptions provide the searcher with a brief description of what the page is about.

Small Online Business Loans:
Small online business loans offer small business owners the chance to get the funds they need to start a business. When selecting the best loan, there are a few things to remember. You should weigh the amount you need, your qualifications, and the speed at which the loan can be funded. Before making a choice, you should research the specifications and read user reviews.
Unlike traditional bank loans, online business loans do not require an application process and can provide you with funds quickly. You are free to utilize the borrowed funds however you see fit. Many lenders have flexible repayment terms and interest rates. These loans are also viable for small firms with solid credit. Those considering an online business loan should understand the terms and costs.
You should also consider the customer support options provided by your lender. Although some online lenders offer phone help, you might not be able to speak with them directly. While it may sound like a minor issue, you should look for an online lender that offers excellent customer service. When you're trying to pay back a loan, the customer service provided by the lending organization might mean the world.

Small Online Boutique:
If you're starting a small online boutique business, several important factors must be considered. These include your finances, marketing strategy, and revenue generation. You will also need to decide on the products you sell and how to handle returns and refunds. In addition, it's essential to set milestones and timelines for the success of your business.
You'll need to build brand awareness and drive traffic to your website. This entails leveraging social media, digital advertisements, and email marketing to draw clients. Your website should be user-friendly, entice visitors to look at your products, and make it easy to purchase them. Hiring a professional to complete this task is preferable if you lack web design expertise. The right person can design your website, write engaging copy, and implement SEO to increase traffic. Starting an online boutique business requires developing a business plan. Not only will it help you organize your time, but it will provide a clear road map as your business grows. While traditional 20-page business plans may seem like an unnecessary burden, they can help entrepreneurs stay focused and get the results they're looking for.
Why small businesses are important:
Many small business owners treasure their relationships with their customers. They rely on these people to bring in profits and spread the word about their brand. They take specific orders, offer individualized service, and are eager to impart their knowledge to clients. Additionally, they take pleasure in getting to know their clients and assisting them in locating the goods and services they require.
Small businesses often hope to expand their market by increasing their online presence. While face-to-face interactions are still significant, the internet provides businesses with a means to reach thousands of potential customers. They can also set up an e-commerce store, which allows them to sell and ship to customers worldwide. This can lead to expanding their service area and opening regional offices.
In addition, many entrepreneurs enjoy the freedom of operating their businesses from anywhere. With new technologies like VOIP communication systems and business apps, online companies are now more accessible than ever. People frequently use coffee cafes to conduct their online operations. This type of flexibility is empowering.
how to buy small online business
There are several considerations to address when purchasing a small online business. One thing to consider is the amount of traffic to the site. A business that receives a large traffic volume is more profitable than one with low traffic. The costs of the company are another aspect to consider. If the business's expenses are higher than its income, you might not be able to make a profit.
An online business should have a proven track record of sales and profits, and you should look at the financials to ensure that they are accurate. Buying one can be a great alternative if you don't have the time to start your own small online business. In addition, you can avoid many costly and time-consuming tasks by purchasing a company already established.
You can use an online business marketplace to find out the value of the business you are interested in. Most marketplaces will provide a valuation tool that you can use to determine a company's price. In addition, it is important to compare total annual expenses to annual revenue. If the costs are high, they could exceed the income in inflationary markets.